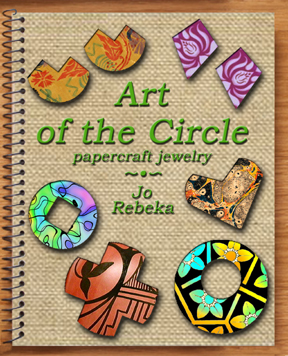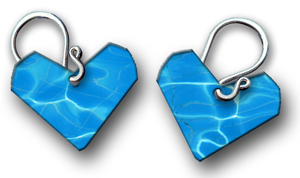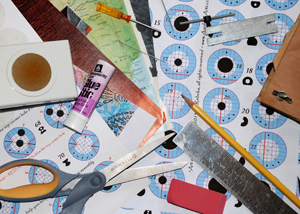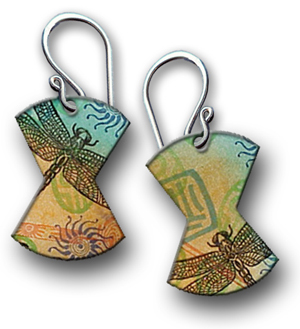 Create your own unique jewelry with just scissors, glue stick and punches!
Learn to make all the designs shown above (plus over 150 more) ~ this is an amazingly versatile creative system for making jewelry from all types of paper. The tutorial gives you simple instructions and easy-to-use templates ~ everything you need to make jewelry that will delight and inspire! Personalize with your own artwork or dive into the thousands of online resources.
You're going to love this system, and if you can cut and folded along a dotted line, you can do it!
The Art of the Circle system is based on peel-and-stick templates that show you exactly where to cut, fold and punch to make a dizzying array (156 different designs in all) from a simple pre-punched circle. Four different sizes of each template are provided, and of course you can print up as many copies as you need.
Learn to make attractive, fun jewelry from your own artwork, from magazine pages, and from many other sources. Great low-cost jewelry items to give or sell!
Basic supplies needed: scissors, ruler, glue stick and a paper punch. An over-sized paper punch (available at your local craft shop) is also helpful but not essential. Flat nose pliers if you are making earrings (to attach the ear wires). Supplies and suppliers listed within the tutorial, of course.
Tutorial specs:
34 pages of step-by-step instructions, resources and ideas
Appropriate for ages 8 to adult
71 pages of peel and stick templates ~
156 different jewelry designs
based on a simple circle in 4 different sizes. Use the components to make just about any type of jewelry you can dream up!
Only $12, and available for immediate download on Etsy!
https://www.etsy.com/listing/2148254...rcraft-jewelry
More pictures on Etsy, too